A few months ago, I had a miscarriage. It was particularly shocking and even a bit debilitating, because even though I now know they're more common than any of us want to talk about, I had prepared for conception for a year prior to getting pregnant. I took the prenatals, I took the fish oil, I ate a nutrient dense diet. Sometimes, miscarriages just happen. No matter what you do right and no matter how much you've prepared your body for pregnancy.
Following the miscarriage, I knew I really wanted to step up my nutrition game. I always eat well, but I wanted to add something into my diet that really increased my daily nutrient intake. This smoothie packs a ton nutrients into one easy drink.
Maca boosts fertility, balances hormones and strengthens egg health.
Kefir is rich in beneficial probiotics.
Egg yolks are high in omega-3s and vitamins A, E, D, K and choline (critical for pregnancy).
Raspberries are a low sugar fruit that are high in fiber and antioxidants.
Wheatgrass is high in antioxidants and very cleansing.
Kale is high in folate and a ton of other vitamins and minerals.
Bentonite clay binds to toxins as well as harmful bacteria and yeast, flushing them out of the body.
Collagen is great for the gut, tendons, joints and bones as well as skin, hair and nails.
This organic greens powder is loaded with vitamins, minerals, enzymes and probiotics.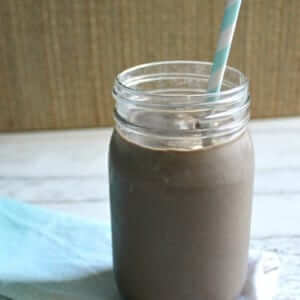 Fertility Smoothie
This fertility smoothie with maca, collagen, spinach, kale, and eggs packs a ton of nutrients into one easy drink. If you're trying to get pregnant, drink this smoothie daily for all the necessary baby nutrients!
Ingredients
1

cup

organic raspberries

1-2

egg yolks

from pastured, organic eggs

1

handful

kale or spinach

1

cup

raw grass-fed kefir

1

scoop

wheatgrass

1

scoop

greens powder

1

scoop

collagen

1

tsp

maca

1

tsp

bentonite clay
optional add ons that I often throw in:
lemon slices with peel

carrot

cucumber

raw honey

if you'd like it sweeter
Instructions
Put all ingredients in a blender and mix on high until smooth.
Notes
It's perfectly safe to drink this smoothie daily!