Unless you've been living under a rock, you've likely heard that Subway previously used azodicarbonamide (azo for short) in their bread. Azo is a dangerous, unhealthy chemical that is used to make yoga mats. It has been linked to respiratory issues, allergies and asthma.
After a huge internet outcry and a petition that was signed almost 100,000 times, Subway agreed to remove azo and promptly began manufacturing (notice I did not saying cooking) their products without it.
But here's why that doesn't matter: Subway is still junk food. Subway still uses dangerous, toxic ingredients.
9-GRAIN WHEAT Whole wheat flour, enriched flour (wheat flour, niacin, iron, thiamine mononitrate, riboflavin, folic acid), yeast, sugar, wheat gluten, contains 2% or less of: calcium carbonate, soybean oil, salt, wheat, rye, yellow corn, oats, triticale, brown rice, barley, flax seed, millet, sorghum, caramel color, refinery syrup, vitamin D2, sunflower lecithin, natural flavor, honey, ascorbic acid, yeast extract, enzymes.
WRAP Bleached enriched wheat flour (wheat flour, malted barley flour, niacin, reduced iron, thiamine mononitrate, riboflavin, folic acid), water, soybean oil, hydrogenated vegetable oil (contains one or more of the following: cottonseed oil, soybean oil) with mono- and diglycerides added, potato starch with monoglyceride, sugar, contains 2% or less of the following: salt, vital wheat gluten, baking powder (sodium acid pyrophosphate, sodium bicarbonate, corn starch, monocalcium phosphate), monoglycerides and citric acid to preserve freshness, fumaric acid, sodium bicarbonate, dough conditioner (wheat flour, calcium sulfate, sorbic acid), sodium propionate and potassium sorbate (preservatives).
CHICKEN BREAST STRIPS Boneless, skinless chicken breast with rib meat; water, flavor (potassium chloride, maltodextrin, sugar, autolyzed yeast extract, gum arabic, molasses, flavors, salt, lactic acid, disodium guanylate and disodium inosinate, fructose, medium chain triglycerides, dextrose, succinic acid, vinegar solids, thiamine hydrochloride and artificial flavors), soy protein concentrate, modified potato starch, sodium phosphates, salt. Contains soy.
EGG OMELET PATTY (Regular): Whole Eggs, Egg Whites, Water, Nonfat Dry Milk, Premium Egg Blend (isolated pea product, salt, citric acid, dextrose, guar gum, xanthan gum, extractive of spice, propylene glycol and not more than 2% calcium silicate and glycerin to prevent caking), Soybean Oil, Butter Alternative (liquid and hydrogenated soybean oil, salt, soy lecithin, natural and artificial flavors, beta carotene (color), TBHQ and citric acid added to protect flavor, dimethylpolysiloxane (antifoaming agent added), Salt, Beta-Carotene (color). Contains eggs, milk and soy.
DOUBLE CHOCOLATE CHIP COOKIE Sugar, enriched bleached flour (wheat flour, malted barley flour, niacin, reduced iron, thiamin mononitrate, riboflavin, folic acid), margarine (palm oil, butter, water, salt, mono- and diglycerides, natural flavor, vitamin A palmitate, beta carotene), white chips (sugar, palm kernel and palm oil, nonfat dry milk, soy lecithin, vanilla), semi-sweet chocolate chips (sugar, unsweetened chocolate, cocoa butter, soy lecithin, vanilla), eggs, cocoa processed with alkali, molasses, water, natural and artificial flavors, potassium chloride, baking soda, salt. CONTAINS: Wheat, milk, eggs and soybeans.
Why have we put so much effort to have one ingredient removed from hundreds of harmful ones instead of more important issues, like boycotting GMOs? Subway is still unhealthy, it's still junk food. But now we have given them a platform to boost sales; removing azo was a genius marketing move – just consider how many people will eat at Subway because they think it's healthy again. They removed one ingredient. Their products are still full of preservatives, food coloring, toxins and GMOs, even the chicken has over 20 ingredients (including MSG). Why have we put so much energy into this, when small farms are being raided and shut down? When we can't grow our own food? When we don't even have the choice to purchase raw milk?
Honestly, who gives a shit if Subway removes one of their toxic ingredients when our basic freedoms are being stripped away? Raw milk is illegal. In several counties across the US, it is illegal to even own chickens. A Florida homeowner is facing $130,000 worth of fines for growing a garden in his front yard. A farmer's sheep (and livelihood) were slaughtered for a disease they may or may not have even had. Organic farmers are required to pay thousands of dollars for certification, while our tax dollars go to subsidies for genetically modified crops like soy, corn and canola.
Do you still think removing one ingredient from one fast food chain is a worthwhile battle?
What this did prove is that when people band together in support of something they believe in – change can come. It is possible. I suggest banding together to support something that causes real change. That will actually make a positive and lasting effort, something that will protect future generations.
We've become too complacent with what is happening in our own country. Whoever controls the food controls the people. Instead of signing useless petitions to Subway or any other fast food chain, let's support people who have come under attack for selling healthy food, for selling raw milk, for growing their own food, and for being brave enough to stand up to the injustices that are happening to them.
Sign THIS petition to to allow access to raw milk through consumer-owned livestock boarding contracts in Maryland.
Sign THIS petition to to vote YES on SB 51 to support Virginia's small family farms and consumer freedom of choice.
Sign THIS petition to stop the unjust slaughter or heritage breeds in Michigan and potentially nation wide.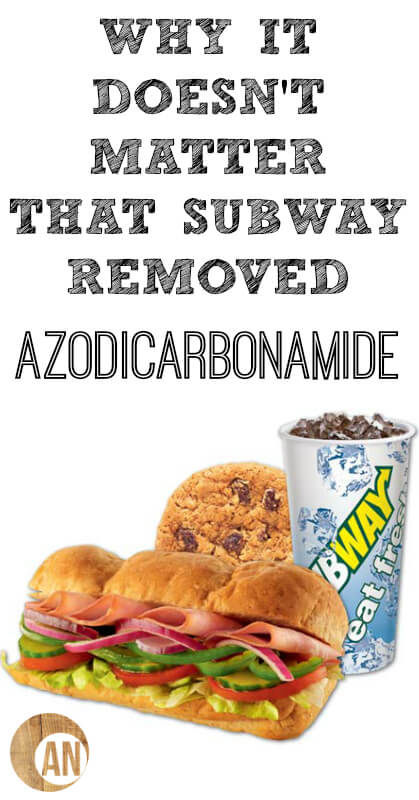 Sources:
https://www.subway.com/Nutrition/Files/usProdIngredients.pdf
http://news.yahoo.com/blogs/odd-news/man-fights-fines-of–130-000-for-garden-that-others-feel-is-an-eye-sore-204718723.html
http://www.collective-evolution.com/2014/06/07/cfia-destroys-life-of-innocent-shepherd-by-murdering-her-flock-of-rare-sheep-now-she-faces-up-to-12-years-in-jail/