I feel like I'm forever in a state of growing my hair out. Really. I want it to be mermaid long. I want it to grow to below my ribs. It's still just below my (perky!) boobs so I'm getting there! It's long but not quite where I want it to be. Like most people who grow out their hair, of course, I deal with dryness, split ends and overall unhealthy hair. In fact, a few months ago I was dealing with a ton of breakage. My hair was so weak at the ends it was basically cutting itself.
I couldn't figure out the issue. My hair is thick, healthy and grows well…until you get to the ends of my hair. I cut it semi-regularly and do everything I should to keep it healthy. I don't over-wash it and I rarely use heat tools. What was up?!
The ends of our hair need a lot more moisture than the roots and mid hair. Without it, over time they split, they become brittle, dry and weak. They break off. They might even look like straw (especially if you're blonde!).
But after doing a ton of research on the best oils for hair, I've finally found the Magic Hair Oil. The difference it's made in my hair is nothing short of amazing. You can make this oil using the DIY recipe below or purchase it in my shop HERE.
This hair oil:
encourages growth
transforms dry hair into strong, resilient hair
deeply nourishes
prevents and repairs split ends
hydrates hair
adds shine
tames frizz
How does it work so well, you ask? Three simple ingredients.
Argan oil – argan oil is naturally rich in fatty acids and vitamin E, both of which are crucial to healthy hair. Because of this, it nourishes hair and strengthens keratin, which is the main protein that hair is made up of. It prevents split ends, add shine, hydrates and beautifies hair. Vitamin E also encourages hair growth, and argan oil is naturally rich in E! And unlike coconut oil, it doesn't make the hair greasy (unless you add way too much)!
Lavender essential oil – just as it is for the skin, lavender is a great hydrator. It also happens to smell amazing! Lavender actually deeply conditions the hair and helps it repair. It strengthens the strands of hair, preventing breakage while promoting shine.
Cedarwood essential oil – cedarwood actually stimulates hair growth (although if you want to use this on your roots to stimulate growth, make sure to wash your hair the next morning so it's not greasy). Because cedarwood stimulates hair follicles, it also strengthens the hair from the outside in. This is great for frizz, hair breakage and split ends.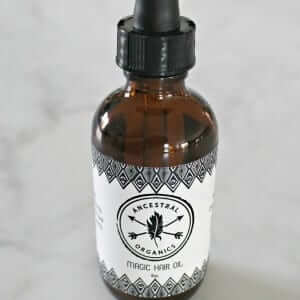 DIY Hair Oil for Split Ends, Dryness + Growth
This DIY hair oil

encourages growth,

transforms dry hair into strong, resilient hair,

deeply nourishes,

prevents and repairs split ends,

adds shine and

tames frizz
Ingredients
1

blue glass bottle

4

oz

argan oil

25

drops

lavender essential oil

25

drops

cedarwood essential oil
Instructions
Combine all ingredients in the blue glass bottle.

Shake before each use.
Notes
You can make this oil using this DIY recipe or simply purchase it in my shop HERE.