I have a ritual every Sunday.
I prop my computer on my toilet, turn on Freaks and Geeks, put on this face mask and relax while taking a detox bath.
It's such an awesome way to chill out and get ready for the week ahead. Especially with a super clean face and pores that aren't clogged with grime (hey, it happens).
For my acne prone skin with pores that just get bigger if I don't clean them regularly, this has made a huge change in my skin.
I always do this before bed, so I usually start my bath around 9. First, I exfoliate using sea salt and jojoba oil. This allows the mask to penetrate more deeply into the skin.
I let the mask harden on my face and after removing it, immediately apply my homemade moisturizer (which I'll be selling soon, so keep your eyes peeled!). My homemade moisturizer is amazing for acne prone skin, especially if like me you also have the privilege of sporting some old acne scars from your teens.
The clay from this mask actually pulls impurities from the skin.
You can literally feel it hardening and tighten your face. The apple cider vinegar is a great toner and balances the pH of the skin; while the tea tree penetrates to kill off harmful bacteria that causes acne and the lavender soothes the skin.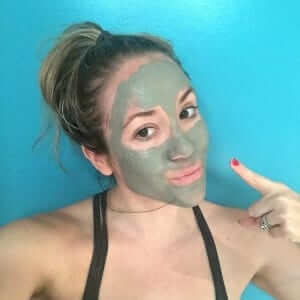 The Most Detoxifying DIY Face Mask For Clear, Glowing Skin
The BEST DIY Face Mask for Clear Glowing Skin! This easy homemade mask really works! The clay pulls impurities from the skin. The apple cider vinegar is a great toner and balances the pH of the skin; while the tea tree kills off acne-causing bacteria. A natural treatment easily made at home
Ingredients
2

tsp

bentonite clay

2

tsp

apple cider vinegar

2

drops

melaleuca or tea tree essential oil

*

2

drops

lavender essential oil

*
Instructions
Combine all ingredients using non-metal utensils.

Once you've exfoliated, apply to clear, dry skin.

Let the mask dry on your skin, about 20 minutes.

Remove gently with a wet washcloth.
Notes
*essential oils are optional
Once removed, your pores are open and this is the PERFECT time to add an intense moisturizer and essential oils (especially if you have acne). I always follow this mask up with my Clear Moisturizer, which is great for acne prone and/or aging skin. Or if you just have aging skin, try my Youthful Moisturizer.
I highly recommend doing this at least once a week.