To be truthful, before I made this salad I thought there was a good chance it would taste like sh*t. Detox salad? It even sounds like it tastes bad. Detoxes aren't fun, they don't taste good, and more often than not they're boring as f*ck. And let's review the major ingredients:
broccoli
cabbage
cauliflower
It's basically a small child's nightmare.
But, I was determined to make it taste good. Don't get me wrong, I love cauliflower, broccoli, and cabbage. But I usually cook them individually, with a lot of butter. If you're wondering why I would even attempt to make a raw broccoli, cabbage, and cauliflower salad taste good, or make a detox salad in the first place, it's because I'm trying to eat more cruciferous veggies. They're packed with nutrients and you guessed it – they help you detox. And promotes, you know, regularity. As a health coach, I find myself asking basic strangers their bathroom habits. It no longer phases me. If you're not regular, eat this salad.
And thank me, because it actually tastes good.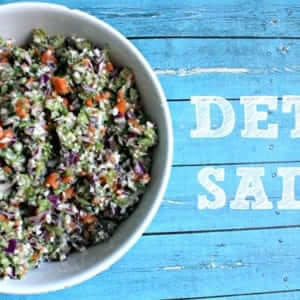 Easy Detox Salad
This easy healthy detox salad is made in a food processor within seconds!
Ingredients
1

small head cauliflower

1

small head broccoli

1/2

purple cabbage

3

large carrots
Instructions
Using a food processor, process the cauliflower until it's the size of rice.

Do the same with the broccoli.

Then the cabbage.

Then the carrots.

For the dressing, combine in a blender, pour over top. Toss.
Notes
Use maple syrup instead of honey to make this vegan.
Nutrition
Calories:
458
kcal
Carbohydrates:
68
g
Protein:
18
g
Fat:
18
g
Saturated Fat:
2
g
Sodium:
307
mg
Potassium:
2622
mg
Fiber:
20
g
Sugar:
31
g
Vitamin A:
19520
IU
Vitamin C:
535.7
mg
Calcium:
336
mg
Iron:
5.5
mg