Jump to Recipe
I randomly made these chicken & refried bean tostadas and now I will not eat anything else because they're so. damn. good.
I grocery shop every Friday. I make a rough meal plan, then make a grocery list based off the ingredients I'll need to make those meals. Prior to doing this, I check and see what's on sale at Whole Foods so I don't end up spending seven hundred dollars on groceries.
And it turns out that A Dozen Cousins beans were on sale. I also discovered that you can purchase these beans at a discount on Amazon (here).
And here's the thing: this post is NOT sponsored. I am certain A Dozen Cousins have no idea who I am. But I know who they are, because as it turns out, their beans are FREAKING AMAZING.
But a little backstory.
I went pretty strict paleo/Weston A. Price back in 2010. No grains, no beans, just meat, seafood, fats, broth and veggies for the most part.
Of course, even though the food was delicious, it was too restrictive, and unnecessarily so. I could've incorporated more grains and been fine. I could've eaten beans, and should have!
Beans don't agree with everyone, but if they don't bother your digestive process – enjoy them!
Food does NOT have to be so complicated.
I still love the paleo/WAPF way of eating, and still participate in it. Now I just also incorporate white rice, a small amount of oats, and now – beans!
And let me tell you, beans are GOOD. a Dozen Cousins also makes refried black beans, which I can't wait to try next. But for this recipe I used the pinto beans. And I love pinto beans.
*A note on beans and protein – there's a pervasive myth that beans are good source of protein. They're not. A 1/2 cup of beans is equivalent to 5 grams of protein, when the average adult should be consuming at least 25g of protein per meal. In contrast, a 1/2 cup of chicken is about 20g of protein, 4x more than beans.
Beans are great, but they aren't a legitimate source of protein.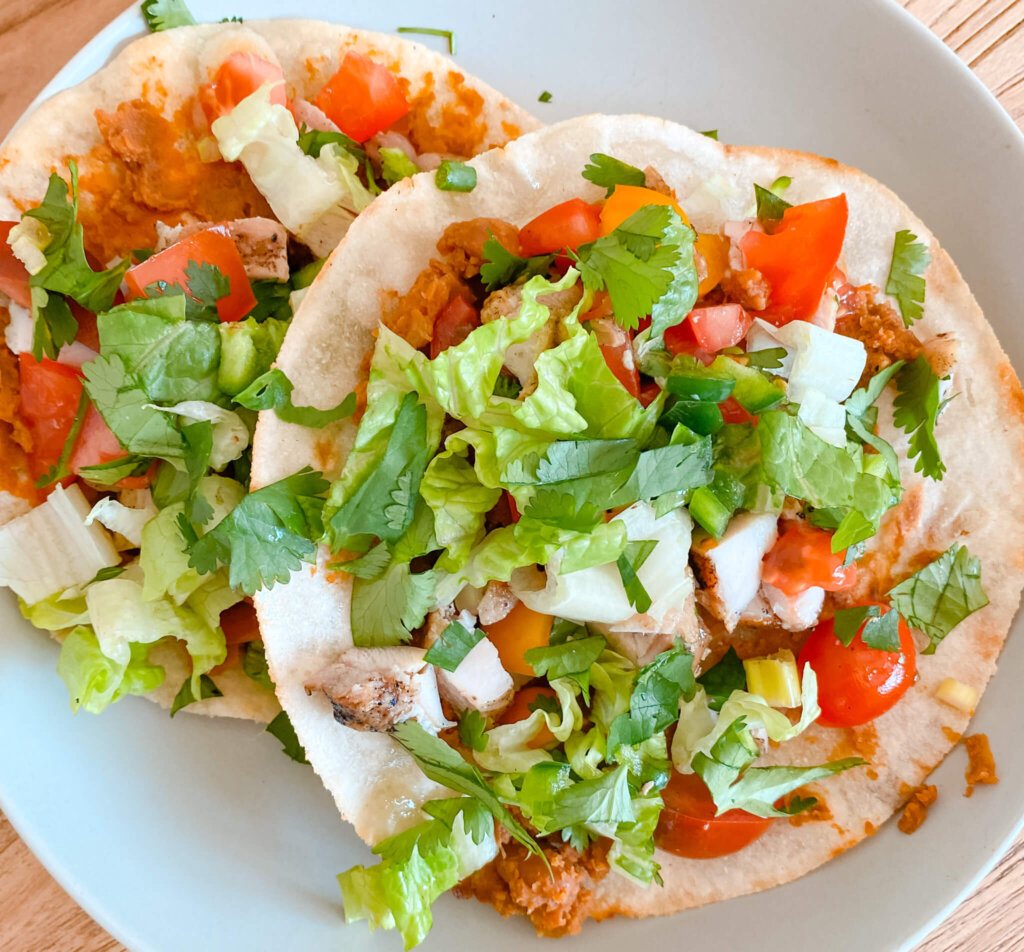 Benefits of these chicken and refried beans tostadas:
high in fiber, a 1/2 cup of the pinto beans contains a whopping 8 grams of fiber
high in protein – NOT from the beans, but from the chicken
low carb
full of healthy fats to help stabilize blood sugar, balance mood and support sex hormones
rich in antioxidants from the vegetables
a great recipe to support beneficial gut bacteria and overall gut health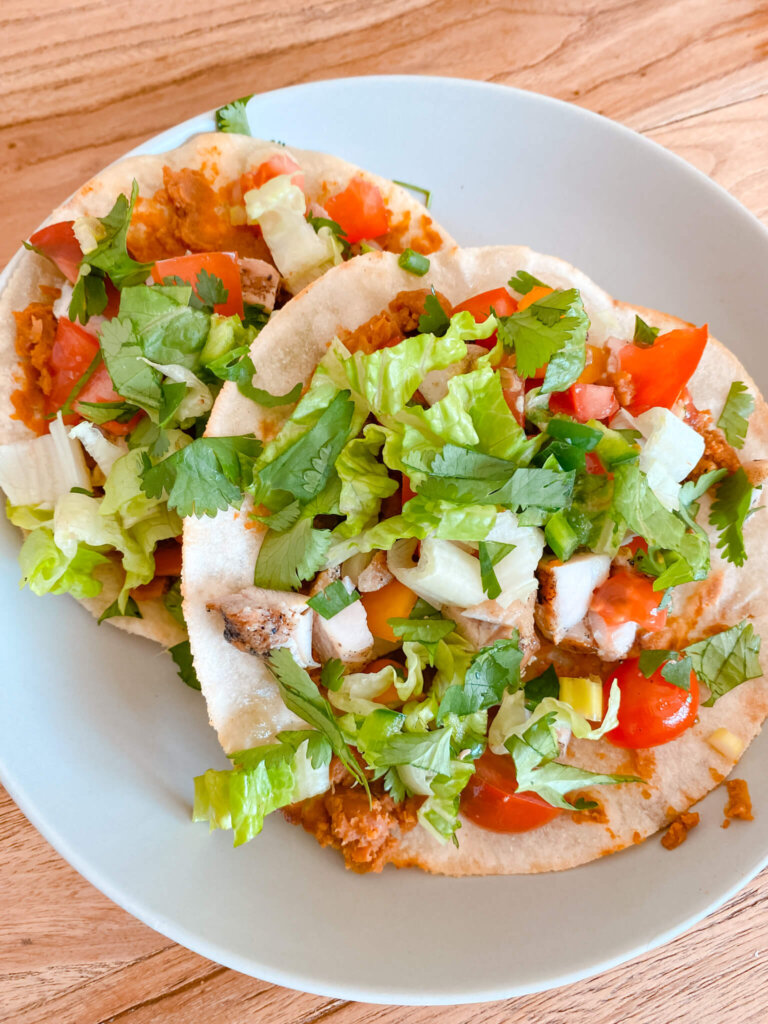 Tips for making this recipe:
to make this recipe low-carb, paleo and keto, try my eggplant refried bean recipe
feel free to use any protein you have, beef, pork or shrimp would be delicious
add avocado or guacamole (my avocados weren't ripe enough!)
add your favorite hot sauce
if you can't find grain-free tortillas, use gluten-free corn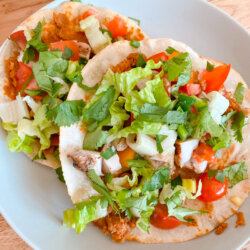 Chicken and Refried Bean Tostadas
Ingredients
4

tortillas (Siete or corn)

1

tbsp

olive oil

1

cup

cooked chicken (grilled, rotisserie, baked, whatever you like!)

1

package

A Dozen Cousins refried beans

1

cup

pico de gallo

1

avocado

1

cup

romaine lettuce
Instructions
Heat 1/4 tbsp of olive oil in a pan over medium high heat. Add the tortillas and cook for 20 to 30 seconds, until the tortilla is browned and crispy but not burned. Do this for each of the four tortillas.

Heat the refried beans according to package instructions. Add about 2-3 tbsp per tortilla.

Top with 1/4 cup chicken on each tortilla.

Add 1/4 cup pico de gallo on each tortilla.

Cube the avocado and add 1/4 to each tortilla.

Top with romaine lettuce. Feel free to add sour cream and hot sauce too!