Scott and I recently went to a baseball game (Nats, baby!) and afterward we went to one of his favorite Italian restaurants. He ordered the soup special, carrot and ginger, which sounded really gross to me for some reason. I was surprised he even ordered it, though the waiter did say it was really good. But like usual, my curiosity got the best of me and I tried it. And it was good. Like, really good. I tried to eat the rest but he wouldn't let me. I'm one of those annoying girlfriends that tries to eat all of her boyfriend's food and constantly eats off his plate. Joey Tribiani would have dumped me for sure (hopefully you understand this Friends reference).
So the other day I'm debating what to make for dinner and I realize I have like, a 10 lb bag of carrots I have no idea what to do with, and a shit ton of bone broth (as usual). And then I had a light bulb moment. Carrot Ginger Soup!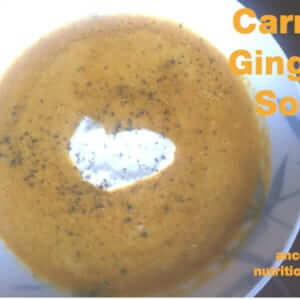 Carrot Ginger Soup
When you consider how detoxing carrots, ginger and bone broth are, this carrot soup is insanely healthy. And carrots, ginger and bone broth are also all anti-inflammatory, so you're literally preventing disease by eating this soup!
Ingredients
1.5

lbs

carrots

steamed until tender

4

cups

bone broth

1

can

coconut milk

OR 1 cup of raw cream

2

tbsp

chopped fresh ginger

1

large onion

1-2

tbsp

garlic

3

tbsp

coconut oil

or butter

optional: sour cream
Instructions
First, make sure you steam your carrots until tender. Saute the onion in the butter until translucent. Add the garlic and ginger and saute those as well. Now combine the carrots as well as garlic, onion and ginger in a blender until smooth. To make it easier, I add some of the bone broth to the blender. This seems to make it easier on the ol' blender to pulverize.

Combine the blender mixture, all of the bone broth and the cream or coconut milk over the stove until the soup in thoroughly hot. Optional but I did it because sour cream is awesome and makes everything taste better: serve with a dollop of sour cream.
Notes
I find that butter tastes better in this soup
Nutrition
Calories:
790
kcal
Carbohydrates:
45
g
Protein:
24
g
Fat:
62
g
Saturated Fat:
53
g
Sodium:
441
mg
Potassium:
1618
mg
Fiber:
10
g
Sugar:
18
g
Vitamin A:
56835
IU
Vitamin C:
27.3
mg
Calcium:
167
mg
Iron:
7.4
mg