Okay, the title of this post is totally inflammatory. No, I don't think your candles are going to kill you, although the title does make me envision one of those really shitty (but totally awesome) scary movies like Killer Clowns From Outerspace. It could be called Attack of the Killer Candles.
I love me some candles. They provide gorgeous lighting, are so relaxing and they smell awesome. But several years ago I stopped using them. Whenever I lit a candle, my head would start to hurt and the inside of my nose would ache.
I eventually found out why that is and have since switched to healthier options and ditched the paraffin candles. But first, what IS paraffin?
Paraffin is derived from petroleum and is the waste result of refining crude oil into gasoline. Doesn't sound so great, does it? The paraffin is then bleached using dioxin, a know human carcinogen.
When a paraffin candle is burned, it releases several volatiole organic compounds (VOCs) including benzene and toluene, both of which are also known human carcinogens.
According to the American Cancer Society,
Benzene is known to cause cancer, based on evidence from studies in both people and laboratory animals. The link between benzene and cancer has largely focused on leukemia and cancers of other blood cells…Rates of leukemia, particularly acute myeloid leukemia (AML), have been found to be higher in studies of workers exposed to high levels of benzene, such as those in the chemical, shoemaking, and oil refining industries.
Benzene has also been shown to increase tumor risk when inhaled.
Toluene can affect the nervous system, cause skin irritation, diarrhea, nausea, headaches, dizziness and drowsiness.
From Dr. Massoudi, a researcher on the toxic effects of candles,
Previous research into candle pollution has found that candles can emit ultrafine, lung-damaging particulate matter that's capable of penetrating deep into the lungs. Massoudi adds that candle soot can deposit on furniture, in carpeting, and in walls, lingering for long periods of time.
There's good news though, according to Dr. Massoudi and Dr. Hamidi,
In the study, R. Massoudi Ph.D., and Amid Hamidi , Ph.D., said that that candles made from bee's wax or soy, although more expensive, apparently are healthier. They do not release potentially harmful amounts of indoor air pollutants while retaining all of the warmth, ambience and fragrance of paraffin candles (which are made from petroleum).
Here is a guide to candle buying:
Avoid paraffin candles – if you're unsure about them or if they're not clearly labeled as soy or besswax, do not buy them!
Avoid soy candles, unless organic – over 90% of soy is genetically modified. Buying soy candles supports the genetic modification of our food.
Beeswax are the best – beeswax candles actually purify the air! They also burn longer and more effectively, and even the unscented ones have a great, light, sweet smell. I however, love scented candles. Here are my favorites:


This lavender vanilla candle
is my favorite scent ever. Lavender is so relaxing and it just makes my entire apartment smell amazing. It creates such a nice atmosphere.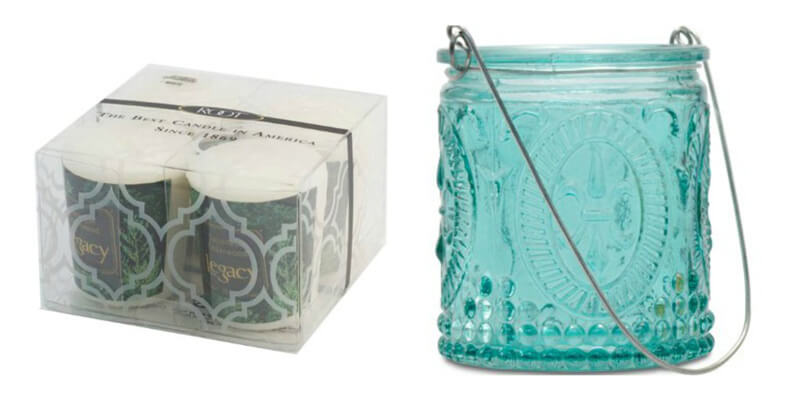 These votive candles
with
this holder
are not only gorgeous, they smell awesome! If you like a woodsy scent mixed with lavender and citrus, this is for you. The votive candles are also owned and sold by a family run business, which I love!

If you need tealight candles, these are a great option. They're ginger patchouli which is both woodsy and spicy and delicious.

These candy cane scented tea lights are perfect for Christmas. I place them in tea light holders around my apartment and it seriously puts me in the holiday spirit. I love 'em.
Sources: