You guys. I love margaritas. And this paleo apple cider vinegar margarita is the perfect drink this fall!
I made this margarita on Saturday for Halloween. If you're wondering what I was for Halloween, the answer is RBG. See below.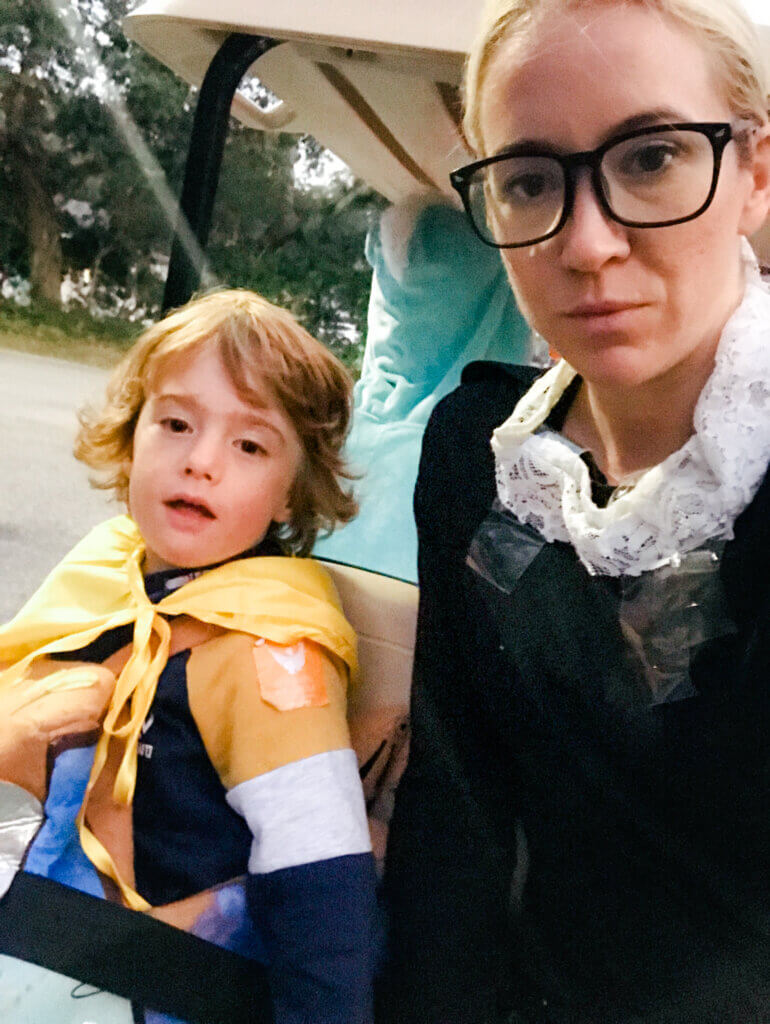 I went to Goodwill about four hours before the start of trick or treating and managed to pull this together. Not the best, because I am NOT crafty. But people knew who I was, so I'll take it.
Also I just moved to the south so I had to rep, you know?
Anyway. I made this paleo apple cider vinegar margarita before we hopped on the golf cart and took the kids trick or treating. I like alcohol, not too much and definitely not with a lot of sugar.
I drink maybe once during the week (a glass of wine or something if we go out) and then Friday/Saturday on weekends. I love to have a glass of wine with a fresh, beautiful, local plate of food. But I also love to have a margarita with my food, especially if that food is tacos.
Anyway, I know this seems like an odd pairing but it was SO good. I feel like tequila is not a common autumnal cocktail and I'd like to change that. Wine? It's great. But tequila is FUN and DELICIOUS.
I made this one with no sugar added organic apple cider, apple cider vinegar and a good quality silver tequila. If you'd like a sweeter option, you can add some maple syrup, honey or stevia.
I always use the Bragg's brand of apple cider, it's high quality and loaded with benefits.
Benefits of apple cider vinegar:
ACV is particularly beneficial for insulin response. Many studies have demonstrated ACV's efficacy for maintaining stable blood sugar. Numerous studies have shown ACV's ability to lower blood sugar after meals (study, study, study).
This study found that ACV helped lower blood glucose by 31% after eating 50 grams of white bread.
This study found that ACV reduced belly fat and overall weight gain in people who consumed it daily.

Other recipes:
The Healthiest Shot You'll Ever Take (it's actually booze-free!)
Tips:
To make this even lower carb, omit the Triple Sec and add stevia.
If you'd prefer a less tart drink, add either less lime juice or less apple cider vinegar.
Use a high quality silver tequila. Ask for help at your local liquor store; I did and received a 15 minute lesson on tequilas that was incredibly interesting!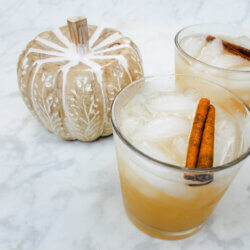 Apple Cider Vinegar Margaritas
This low-carb, healthier, delicious marg will be your new favorite – with no hangover!
Ingredients
1

shot (or 1.5oz)

silver tequila

1/2

shot (about .75oz)

Cointreau or Triple Sec

1

shot (1.5oz)

apple cider vinegar (I use Bragg's)

juice of one lime

top with sparkling seltzer (I prefer an orange seltzer)
Instructions
Fill a cocktail glass 2/3 full with ice.

Add a shot of tequila, half shot of Triple Sec, a shot of tequila and the juice of a lime.

Top with sparkling seltzer, orange is best here!

Stir with a straw or spoon, drink!

Feel free to add salt, a cinnamon stick, a lime wedge, whatever you like!
Nutrition
Calories:
180
kcal
Carbohydrates:
11.5
g