I didn't try Indian food until I was twenty years old. Which is weird because I've always been an adventurous eaten and had eaten Thai, Japanese and Vietnamese regularly growing up. And don't get me started on the amazing food my neighbors from the Philippines used to make that I no longer have access to.
But I never ate Indian until my Vietnamese and Thai (good combo, huh?) friend took me to a whole in the wall Indian joint. I have no idea what I ate because I didn't know the names of anything, but I've enjoyed Indian food ever since.
While Indian cooking can be complex with a ton of flavors and spices, long cooking times and exotic ingredients, it can also be really simple (if you own some organic curry powder). When Scott's not going to be home for dinner, I make the quickest and easiest meals, which usually means I end up eating breakfast for dinner (what's quicker than bacon and eggs?). But this time I was craving Indian, and the meal came together in under twenty minutes.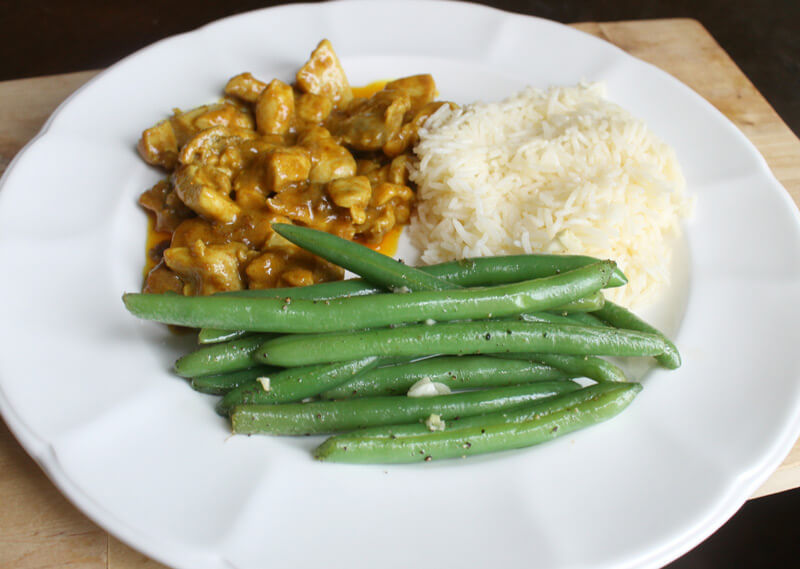 First, make some rice. I only use THIS brand because it's organic and sustainably grown. Sometimes I make it in batches to keep in the fridge. To make this strict paleo, just use cauliflower rice.
Sauté some green beans in coconut oil with garlic. THIS brand has no coconut oil taste. I love it. While the rice is going and the green beans are sautéing, make the curry chicken.
Ingredients For Curry Chicken:
1 lb chicken, chopped into bite sized pieces
1 can of coconut milk (I use THIS coconut milk, it's BPA-free)
2 tbsp of curry powder (I used THIS brand and loved it)
Directions:
Melt the ghee over medium heat and add the chicken.
Get the outside browned a bit.
Add the coconut milk and curry powder.
Let it simmer for about ten minutes, or until it thickens up a bit and the chicken is cooked through.
You're done.
From start to finish this meal takes under twenty minutes, is super easy and if you're just making it for yourself, you'll have leftover for lunch the next day!