I surprised even myself with how insanely delicious this turned out. I really, truly believe it's the best gluten-free vanilla cake ever made. It's THAT good.
Okay so I've said it once, I've said it a thousand times – I am not a baker.
I don't like to bake. I don't like to follow a recipe. I don't like to measure out seventy three ingredients and be precise.
But here's the thing about this cake: the ingredients are fairly minimal, super common and easy! You don't need a bunch of different ingredients to make this cake good, and it's not at all complicated.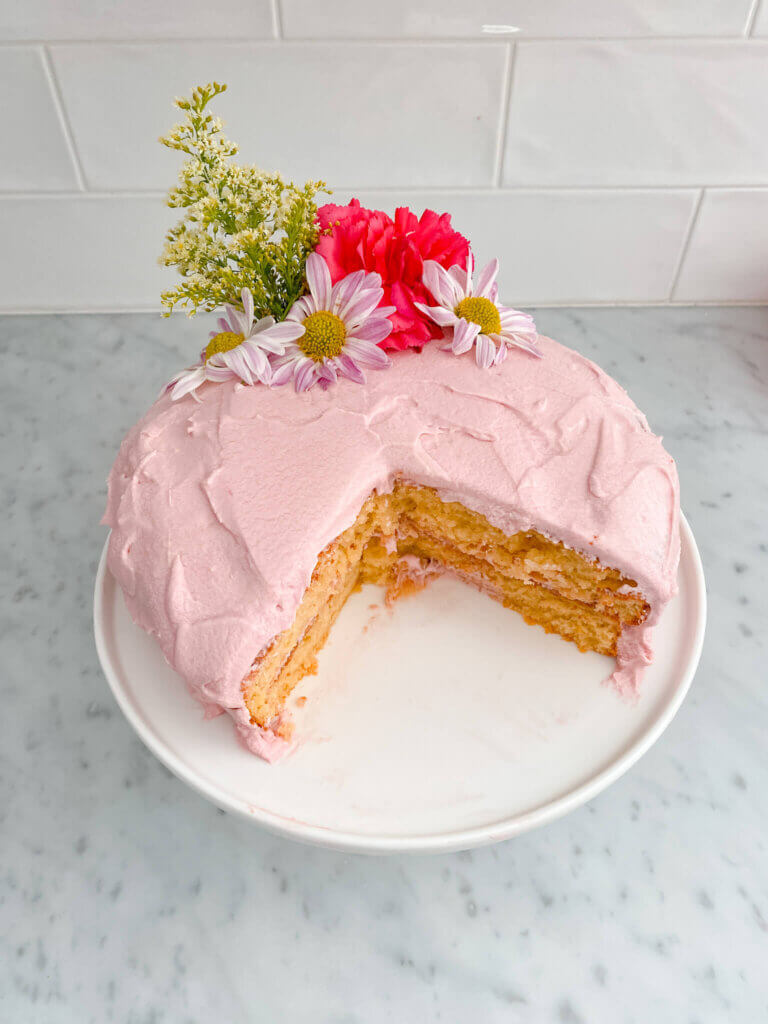 And that's the kind of baking I can get on board with.
I adapted this recipe from a recipe I found on Nagi's website for cake; I made this gluten-free and just health-ified it a bit.
I've made it twice now with a few tweaks, and it's been insanely delicious each time. Like, better than most bakery cakes I've tried. And certainly better than majority of gluten-free bakery cakes I've tried. There's just something so much more delicious and fresh about a homemade cake. It's more flavorful, moist (I hate that word too but it's true) and fresh.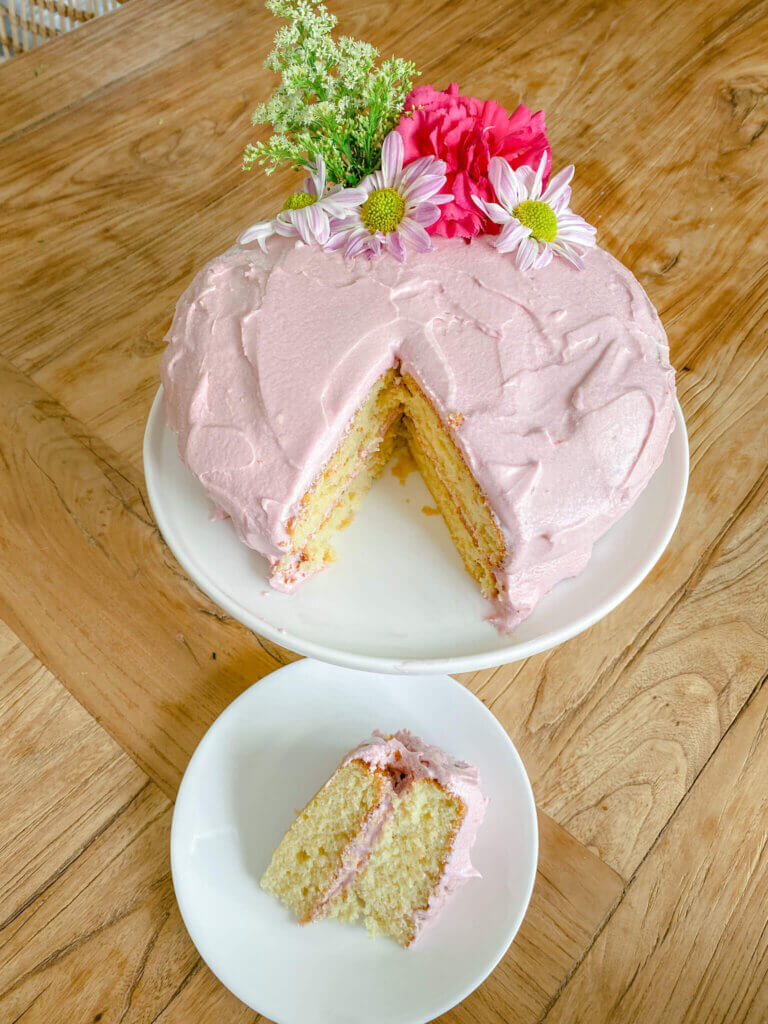 And the secret here, I think, is butter. Good, real, grass-fed butter. I used it in both the frosting and the cake and what resulted was a creamy, delicious, flavorful, buttery cake. Also known as the best gluten-free vanilla cake ever made.
Tips for making the best gluten-free vanilla cake in the world:
you can switch up the flour, but I have only tested this using Bob's Red Mill 1:1 gluten-free flour blend
to make this keto, use a keto flour blend like this one and a sugar-free sweetener
this cake stays moist for up to four days so feel free to make ahead of an event
I use this natural food coloring for pink frosting, go crazy with the colors!
my kids have so much fun making this cake with me, get them involved too!
you can make this the day ahead of an event, I'm making it for Easter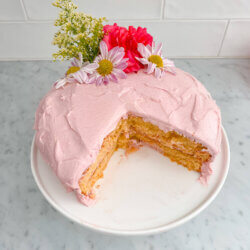 The Best Gluten-Free Vanilla Cake
This is seriously the most delicious cake, it's easy to make and healthier than your average cake.
Ingredients
2

cups

gluten-free all purpose flour (I use Bob's Red Mill)

2

tsp

baking powder

1 1/2

cups

super fine sugar or powdered sugar

1/4

tsp

sea salt or Himalayan salt

4

eggs

1

cup

milk (raw, almond, coconut, whole, whatever works for you)

1

stick

grass-fed butter, melted

1

tbsp

vanilla extract (yes a whole tbsp!)

1

tbsp

olive oil
Frosting Ingredients:
4

cups

powdered sugar (this makes a lot of frosting)

2

sticks

butter, softened

1

tsp

vanilla extract

enough milk to thin it out, usually 4-5 tbsp
Instructions
Preheat your oven to 350.

Add all cake ingredients to a large bowl.

Using a hand mixer, stand mixer or even a whisk (I just used a whisk last time I made this), combine all ingredients until smooth.

Grease, flour or add parchment paper to two cake pans.

Add half of the batter to one cake pan, half to the other.

Bake for 20-25 minutes. I only need 20, but you may need more. Insert a toothpick to the center to see if it's done at 20 minutes.

Let the cakes cool fully.
For the frosting:
Add the powdered sugar, butter and vanilla to a large bowl.

Use a hand mixer or standing mixer to beat the butter with the powdered sugar.

Add a tbsp of milk at a time until you reach desired thickness. I use about 4-5 tbsp.