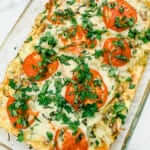 Print Recipe
Keto Cabbage Lasagna
Don't waste a single carb on boring, old lasagna noodles when you can enjoy this low-carb & keto cabbage lasagna recipe instead!??
1

lb

grass-fed ground beef

1

jar

favorite organic marinara

1

head

cabbage

1

16oz pack

shredded organic mozzarella

12

oz

organic cottage cheese

1

pasture raised egg

1

handful

fresh basil

1

tomato
Cut the bottom of the head of cabbage.

Break apart the leaves and steam them. Layer each individual leaf in the steamer, it will take about ten minutes to steam.

While that's steaming, start sautéing the ground beef. Once cooked, drain and add the jar of marinara.

You can use plain ricotta, but I prefer cottage cheese. I blend it with an egg and fresh basil. This add more protein, but again you can just use ricotta if you prefer.

Now you're ready to layer! Add a little of the beef/marinara mixture to the bottom of a baking dish.

Then add a layer of cabbage leaves, a layer of ground beef, a layer of the cottage cheese, then a layer of cheese. Repeat until all ingredients are used.

For the top layer, add a layer of cheese and slices of tomato.

Bake for about 30 minutes, until the cheese is nice and bubbly.

Top with fresh basil.
For convenience sake, you can use store-bought marinara or organic spaghetti sauce but make sure it does not come with added sugar. You can use this recipe to make your own Keto Marinara Sauce.
If you find your cheese browns too quickly, cover the lasagna dish with some aluminum foil.
Serve with a simple green salad for a low-carb dinner. Leftovers taste awesome over cauliflower rice.