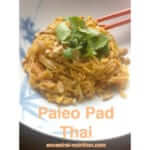 Print Recipe
Paleo Pad Thai
You could make this paleo pad thai recipe using rice noodles to make it more authentic, or even zucchini noodles but I really love kelp noodles and was totally craving them. This recipe came out so well, creamy, spicy, garlicky and awesome.
In a blender, combine all of the ingredients up to but not including the kelp noodles until smooth. Saute the sliced onion and carrot in coconut oil until very tender. Add the garlic.

Whisk the two eggs and add them to the onions and carrots. Cook until set. Add the noodles and sauce. Stir to combine.
Optional: top with chopped cashews and 
cilantro.SO
 tasty!