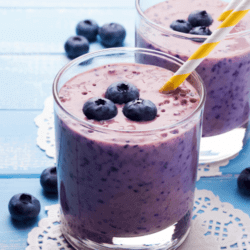 Anti-Stretch Mark Smoothie
This anti-stretch mark smoothie is perfect for preventing stretch marks through diet and nutrition! It works from the inside out to keep you and your skin happy and healthy!
Use any berry you want for this recipe - blueberry and raspberry would work well. 
You can use flax seeds instead of chia. Start with ground flax seeds, rather than whole ones, because the ground form is easier to digest— giving you the maximum potential benefits. Your blender may not be able to completely grind the whole flax seeds, a coffee grinder is best or just by them pre-ground. 
For a thicker smoothie that you can use as a base for a smoothie bowl, you can cut the avocado in cubes and freeze them and use frozen berries.