These grain-free enchiladas are also gluten-free and paleo friendly. A flavor-packed healthy weeknight dinner the whole family will love!
Surprisingly, you can still indulge in delicious Mexican cuisine even when you're paleo and/or cutting gluten out of your diet. Just grab some gluten-free almond flour tortillas, some gluten-free enchiladas sauce and make this delicious recipe for the cheesiest and most delicious beef enchiladas.
"But wait, it that cheese on top? I thought cheese was not allowed on paleo?" I hear you and yes we can talk about this!
Are these gluten-free enchiladas also paleo?
Can we talk about cheese and being paleo for a second? I recently hashtagged a salad with goat cheese as paleo on my Instagram. Someone commented asking,
"I thought cheese wasn't paleo?" To which I responded,
"If it's local, organic and grass-fed and works for your digestion – it's totally fine."
The commenter said she was just starting out with a paleo diet and was so confused about "all of the rules."
You guys. You make the rules. You know what works best for you. If you aren't sure what does or does not work, I highly recommend doing a Whole30.
A Whole30 eliminates sugar, dairy and grains for 30 days so you can reintroduce after the elimination period and see what may not be working for you – or conversely what works just fine.
But there is no set of hard and fast rules you have to adhere to to be paleo. You are an adult. You make your own damn choices. OWN what works for you.
For me? Cheese works. As evidence below. And damn was it good.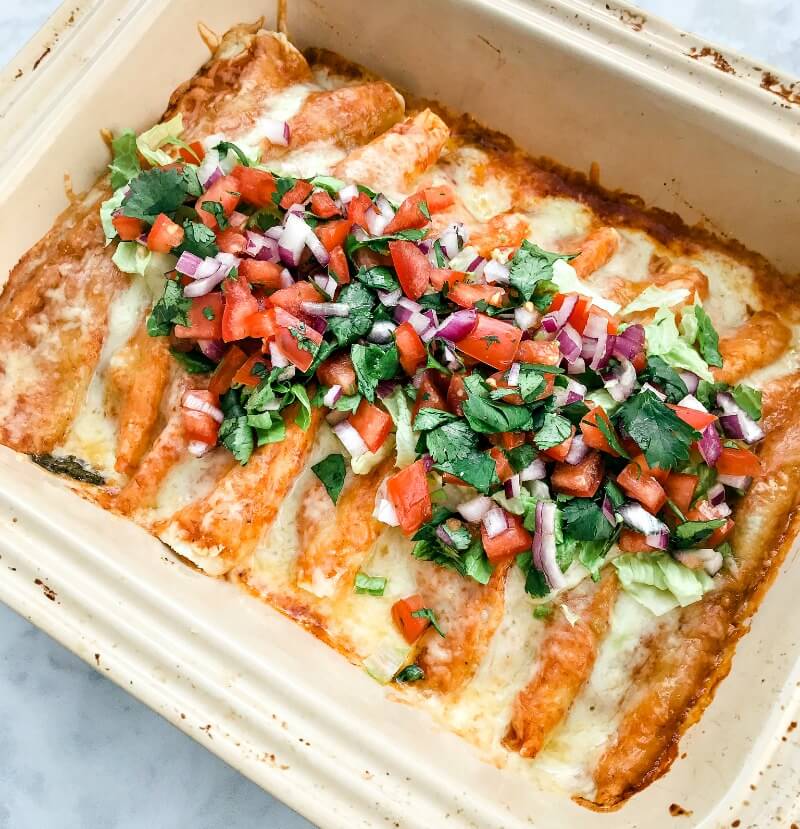 Paleo is not black and white!
Being "paleo" is more about what you don't eat than what you do eat. Let me explain that.
You can be "paleo" by not eating refined sugar, gluten, most grains, processed foods, soda, etc.And you can still be "paleo" while eating broth cooked white rice, soaked gluten-free oatmeal, grass-fed cheese. It's what works for YOU on an individual level. We're all different.
Therefore if you want to remain strict paleo, if you have an autoimmune disease, if cheese doesn't agree with you – simply leave it out of the recipe.
How to make Gluten-Free Enchiladas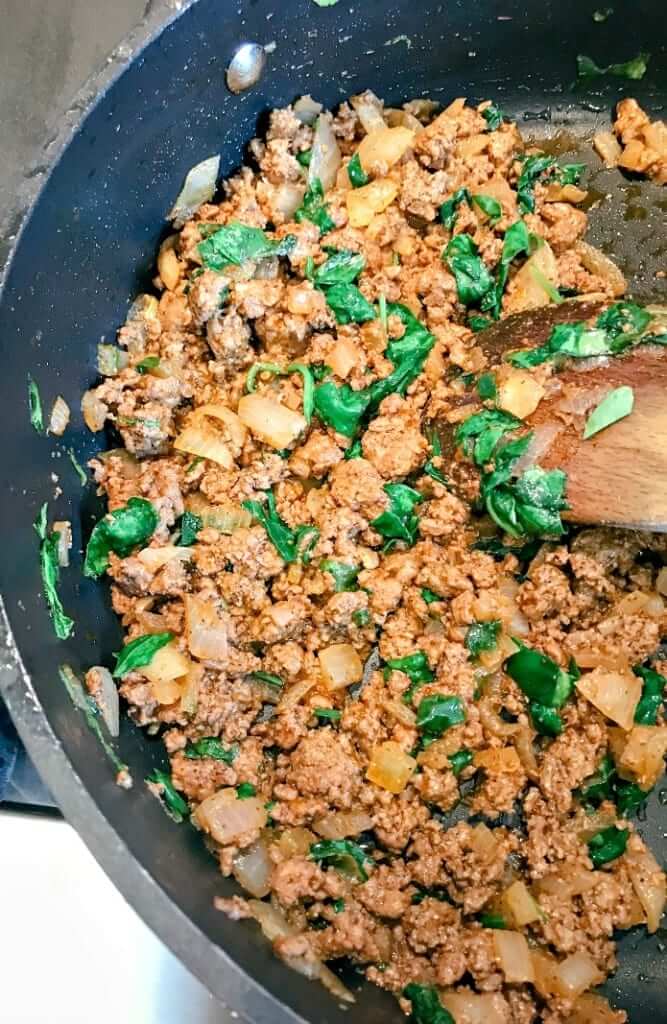 Start by preheating your oven to 375F.
To get grass-fed ground beef delivered and two get two pounds FREE, click here!
Sauté that ground beef, with some onions. Remove the meat and fry the spinach in the beef fat until wilted. I like to add a bit of gluten-free enchilada sauce during this point.
Afterward, add about 1/2 cup of the leftover enchilada sauce to the bottom of a baking dish.
Spoon the beef mixture and some spinach into the tortillas, wrap them up and place the seam side down in the baking dish. Do this for all 8 tortillas.
Top with organic cheese and bake for about 20 minutes, or until the cheese is nice and melty.
Lastly I like to serve my gluten-free beef enchiladas with homemade pico de gallo. This is a great recipe.
The best solution if you want to make sure your enchiladas sauce is gluten-free and paleo approved is to make it yourself. Here is a great recipe.
Additionally, you know, store-bought enchilada sauces are typically made with GMO corn starch and soy ingredients, and can also have MSG, gluten, and hydrogenated oils. No es bueno!
Instead you definitely want to scan that list of ingredients and make sure your sauce is free of added sugar, preservatives, and artificial flavors. Many enchilada sauces may contain also wheat or malt as a thickening ingredient. Oh, and soy. All no-nos.
Hatch enchilada sauces are gluten-free. Here are some great options for healthy enchilada sauces. You can find amazing (seriously so delicious) tortillas that are gluten-free and grain-free here.
Tips for making gluten-free enchiladas:
Basically makes sure to get some proper tortillas. I recommend sprouted organic corn or these Siete tortilla shells, which are my absolute favorite. They're grain-free, gluten-free, paleo and low carb. You can check them out HERE, but they're much cheaper at your local health food store.
You can use store-bought taco seasoning if free from sugar and additives or make your own using this recipe.
If your enchiladas brown to quickly while baking, cover them with aluminum foil.
Lastly make sure to serve with homemade pico de pallo.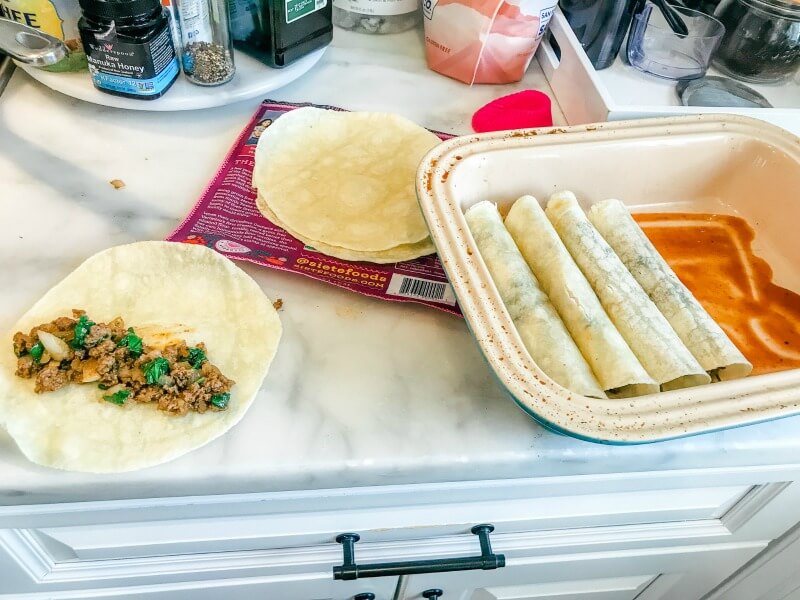 For more healthy gluten-free Mexican recipes, check out my Paleo Steak Tacos or my Gluten-free Mexican Pizza.
DID YOU MAKE AND LOVE THIS EASY GLUTEN-FREE ENCHILADAS RECIPE? GIVE IT YOUR REVIEW BELOW! ? AND MAKE SURE TO SHARE YOUR CREATIONS BY TAGGING ME ON INSTAGRAM!